About Us
We are a growing company located in the piedmont region of South Carolina midway between Anderson, Greenville, Augusta and Columbia. We've been in business since December of 2005, when a newly acquired wood lathe sent us searching for pieces of wood to turn. We looked in many different stores. We looked on the internet. We glued pieces together to get bigger blocks. It was just so difficult to find any decent sized pieces of turning stock!
That's when we started cutting our own blanks using our chainsaw, a portable planer, and an old Craftsman bandsaw we had. We soon started cutting more pieces for ourselves, and one day decided to try selling a piece or two on Ebay. Then we sold more. And more. Needless to say, we've grown considerably since then. After selling countless turning blanks we now have a sawmill, an inventory of logs to choose from, a fully operational shop, lots of customers, a web site, and more. WOW!
Things sure are different now...but one thing does remain the same. We love what we do, and if you decide to give our products a try, we know that the passion we have developed will show up in every piece of wood you'll purchase. If you disagree, we'll gladly get you fixed right up.
Brad Leigher: Owner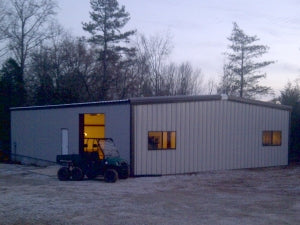 Our Shop
This is a photo of our shop taken in 2011 during rebuilding after a fire destroyed our original wooden shop.
Turning Blank Storage
Nicknamed the "candy store" by our shop's visitors, this is where we maintain our inventory of well over 10,000 individual turning blanks.
Bandsaws
These are our three 18" bandsaws that we use constantly. The Rikon in the foreground is used for cutting large slabs into individual blocks for bowls. The leftmost Jet is outfitted with a 3/8" blade and does all of our circle cutting. The Jet bandsaw to the far right is outfitted with a 1" blade for ripping spindle stock quickly and efficiently.